The advent of coronavirus has changed the world into a new set up that we were not familiar with. It has unearthed some challenges that we least thought of. The pandemic has not only come with a loss of lives, anxiety, and fear, but also a surge in cases of domestic violence and in some cases, gender-based violence. Shredded interpersonal relationships, the dearth of love and infidelity are some of the culprits that sabotage the desired haven of peace in homes.

The rise in cases of violence has not spared the involuntarily childless women. It must be more complicated for them. One study revealed that in some patriarchal nuclear families, a number of women "get their emotional needs met primarily in the context of their relationships with their children rather than their emotionally absent husbands." In the light of this, waiting wombs experience excruciating pain when exposed to violence. They have nowhere to turn to. They will be locked down to abuse.

As an advocate of love in the homes I have a word for husbands. The cry of a childless wife locked down in abuse is to be loved. She is always longing to have someone who will appreciate her. She needs someone who will endear her not "because of" but "in spite of." Her home should be a place of refuge and not a den of a lion that tears the woman that is already facing the challenge of being stigmatised and discriminated. Speaking to couples Dave Willis said, "Love your spouse more than you love your career, hobbies and money. That other stuff can't love you back." Loving one's wife means to be emotionally present with her.
While it is said that absence makes the heart grow fonder, an emotionally absent husband makes his childless wife feel unloved and worthless. In a pronatalist society, it is only a supportive husband that can provide the needed emotional support. In this way, he will have become a house bandage that brings soothing to the painful wounds of having no child. This will not only permit him to occupy the wife's sacred space with dignity, but meet the needs articulated by her cry.
One way of addressing the cry is to adopt the LOVE care model in marriage that I use in clinical pastoral practice as a healthcare chaplain. I developed this tool to enable me to minister to my patients. The model is motivated by how Jesus approached those in need of His help. I have found it to be helpful in helping my wife in her low days. I do not want to present myself as someone who has attained perfection in matters of loving my wife, but I am learning everyday how to make the childless bitter pill sweeter and better.
 
The LOVE Care Model in Marriage

L - "link-up" with my wife--this is to be connected to my darling. By accepting to be my life partner, she allowed me to occupy her sacred space and to keep her heart. She gave it to me as a reliable trustee. It may be sad to have that kind gesture taken lightly by being emotionally unavailable. The antidote for linking up is what I call "absent presence"—a situation when someone is emotionally absent but physically presence. The real key to connecting with anyone in life is to show that you are emotionally available.
O - observe what may be going on in her emotional, physical, and psychological wellbeing. What do I find to be more challenging?
V – verification of my observations by asking vital questions. Examples: Why do you look sad? I see tears, may I understand their meaning? Am I hearing you to be saying that you are regretting?, etc. This is going to help in the development of your plans and goals of care.
E - empowering my wife to positively look at the challenge of childlessness. I affirm her and help her to affirm herself. I help her realise that she is an amazing, unduplicable, born to win and inspired to excel handiwork fashioned by the Owner of the universe.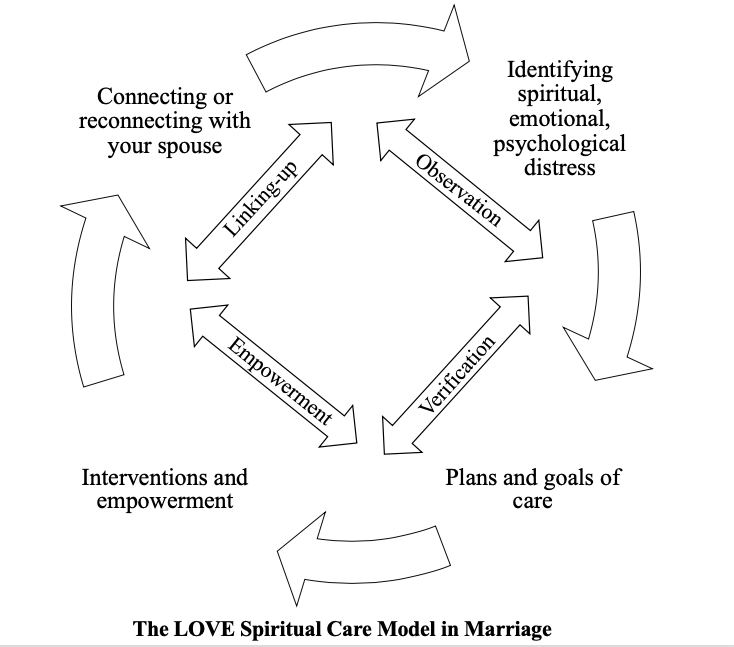 Thinking and praying about the plight of childless women locked down in abuse the pandemic I wrote a poem and dedicated it to them. It is entitled When Work is Well and Home is Hell. A loving husband will make his home well as his work is well too.
 
When Work is Well and Home is Hell
Once I was one among millions
Promised to enjoy love for aeons
And countless resting pavilions
Now sorrows come in their battalions
While captured in a den of lions
When work is well and home is hell

Had I such wonderful intelligence
I'd painfully paint this malignance
Locked down in a storm of violence
Going down with a man of arrogance
Whose eyes beam with malevolence
To his side dishes giving assurance
My marriage hangs in the balance
I'm just keeping an appearance
Yet my heart is wrecked by torrents
When work is well and home is hell

Oh yes, I am always crying
Bleeding with endless groaning
Of things truly disappointing
Sinking under deep yearning
For peace, I am always longing
Of that time when I will be singing
When work was well and home was hell
None could even tell of the ditches into which I fell
Then work was well as home's hell bid farewell
May home be well as work is well


By Sikhumbuzo Dube,
Born to win, inspired to excel.